What Are The Different Parts In An Electronic Exhaust Cutout Kit?
Want to make your car have an aggressive throaty rumble exhaust sound via a small remote control when it is driving? Well, an electric exhaust cutout kit is absolutely a great choice for you. Today I will show you the compositions of the electric exhaust cutout kit to make your car's DIY work easier.
Here I will show you the popular Y-pipe electric exhaust cutout kit with a remote control. Let us take a look at it.
I dare say it is a fine work of art. Yes! Look at that
- Stainless Steel construction resists rust and corrosion over time while boasting superior strength and good looks.
- With the DIY bolt-on installation design, to save your time and money with no welding of the Y-pipe required.
- Leak free design with butterfly valve that seals against a recess machined body, or lip to prevent nasty leaks.
- Compact design for easy installation with versatile mounting locations, fits a broad range of applications and allows for clearance on lowered vehicles.
- Turnouts are located on a spin ring to allow 360-degree adjust-ability for flexibility adjust-ability.
- Wireless remote with two wire hook-ups to the battery or fuse panel. No in car switch required, no holes through the car to run wires.
OK, here we go.
Firstly, this is the actual exhaust valve itself.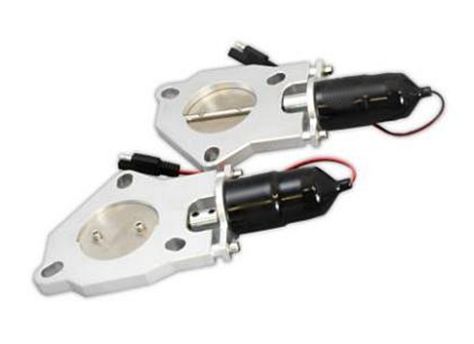 It is a nice aluminum piece with a stainless-steel center flap. One of the first things I notice, right off on this is the center valve when it closes, it has a ridge or a lip to it. So then when it closes it will actually seal the exhaust so it should not have a leaking sound or anything that allows exhaust to escape. Pretty robust motor with the wiring harness fully attached and ready to go.
A wiring harness this would go from the valve itself, up to the control module.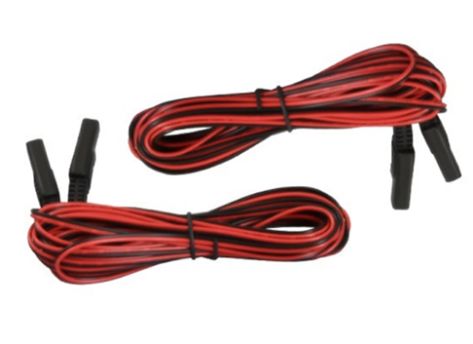 This is what makes the installation easy and possible on your vehicle. That is the y-pipe.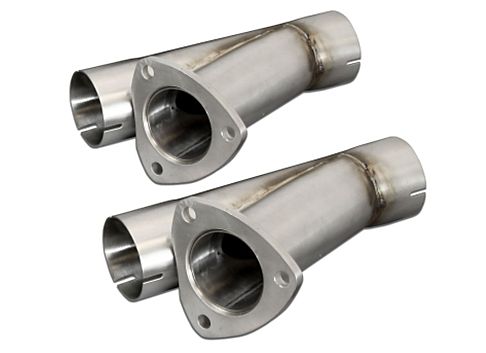 All 304 stainless steel, really nice tig welding on it. As you can see the nice thing on these is they are bumped on each end, so you do not to weld them in. You will cut out your pipe in the center and slip these in, and then with these heavy band clamps that will slip over.
Then we get those which we call the band clamps. They will compress down and hold pipe tight in any position you want. So, you do not have to weld it. You do not have to worry about getting the angle just right because you will be able to loosen it and adjust it as you go.
OK, next thing we find is the turnouts. These are also stainless steel. Areal nice brush finish to them, and they come complete with flanges. The nice thing about this is that it is a spin ring type where the flange slips over and so what that means is you can actually adjust the turnout to go whatever angle you like whether it be pointing down at the ground or 45 degrees off to the side.
So here is the flange. It just slips right over and like I say once you bolt that up you can turn it, so that you can have that adjust at whatever angle you would like it to be kind of a nice feature. That is why this set of kit is so popular.
Then of course the bolts to bolt it all together.
And then, we have one of the coolest things about these, the remote control. It is unlike a lot of systems where you have to put a switch up in the dash and run wires through your fire walling off because of this small key.
Here come the electrical connectors.
Also there is a little control box that uses the Radio-frequency identification (RFID) signal. You mount this under the hood, which next to your battery with two wires and then it is controlled by this key fob if you will notice, it has an open and close button on there.
So once this is in and wired up, you push open once and it will operate until it is fully open. When you want to close it, you push the close button, and it will operate until it is fully closed. So, you do not have to fumble around with holding a switch or waiting to see if it is all the way open or closed. And you do not have to run a bunch of wires and cut holes in your dash.
All right. So today we have introduced about the n electric exhaust cutout kit. It is smart way to make your car have an aggressive throaty rumble exhaust sound easily via a small remote control when it is driving.
If you are just looking for electric exhaust cutout introductions, I hope you find this post useful. Share it with others who might be looking for the method to make a car sound cooler. Well, thank you for your watching. We will see you next time.